Summary
Web designers create the look and layout of web pages. Their skills are in-demand in many types of organizations, from charities to startups, giving you flexibility to work on high impact projects. As a backup, you can enter paths with good pay, like UX design ($80k median salary), and earn to give. However, good design is hard to measure, which makes it hard to prove your abilities to potential employers, meaning entry and progression can be difficult. You should consider web design if you studied graphic design or a related field, you've already spent several years developing good taste in web-design and you have strong persuasion skills that enable you to get a foot in the door when you're starting out. However if you have the technical skills to do web development, we recommend you do that instead, since it has higher pay, more jobs and entry and progression is easier.
Pros
•

Useful skillset that can be used to work directly on a wide range of important problems.

•

Freelance and remote work widely available.

•

Good outlook (similar to web-developers).

•

Less competitive and uses more visual skill than our other recommended paths

•

Fall back option to earn to give by transitioning into higher paid UX design (median salary ~$80,000).
Cons
•

Entry and progression can be difficult because good design is hard to measure.

•

Salaries, number of jobs and job growth rate lower than in web-development, so if that's open to you, consider going into web development.
Key facts on fit
Visual arts background, well developed taste in web design informed by feedback from other designers, strong communication skills, good at persuasion and negotiation.
Sometimes recommended
We recommend this career if it is a better fit for you than our other recommended careers.
Review status
Exploratory career profile
Research process
For this career review, we read ten existing profiles on web designers, collected salary and outlook data from the Bureau of Labor Statistics, Occupational Outlook Handbook, 2016-17 Edition, and ran a draft of this review by several web-designers that we know.
What is this career path?
Web designers create the look and feel of web pages and associated apps. Their goal is to make websites easy to use and aesthetically pleasing.
Web designers combine graphic design with technical knowledge of how to implement their design in webpages. On the graphic design front, they choose the style, fonts and layout of web pages, and create images and graphics (for example logos, icons, buttons and navigation elements). One of the most interesting and satisfying parts of the job is figuring out what's important, and then coming up with a simple, elegant hierarchy. To make good choices, a web designer needs a decent understanding of the business and its customers.
On the technical front, web designers use software like Illustrator and Photoshop, and often use HTML, CSS and JavaScript to implement their design in webpages. Due to the rapid changes in web technologies web designers have to frequently update their technical skills.
To see the results of web designers' work, check out a list best website designs of 2015.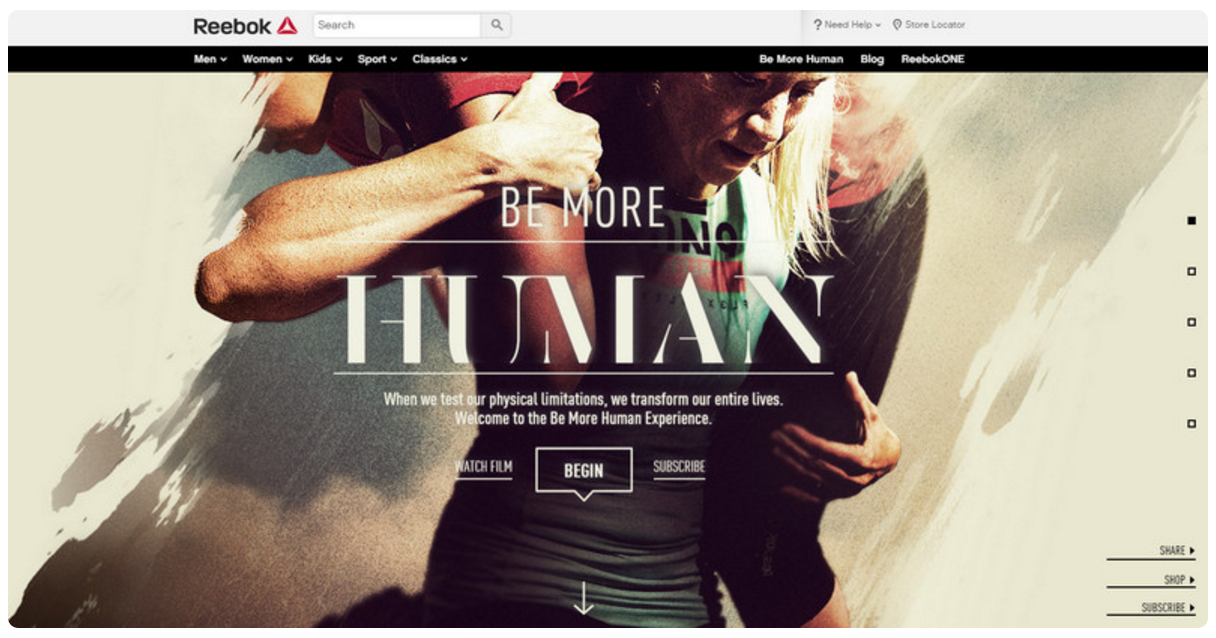 What is it like day to day?
Check out profiles of typical 'days in the life' of freelance web designers.
To see what the work is like once you're more senior, check out a day in the life of a UI design manager at AirBNB.
What's the difference between a web designer and a web developer?
A closely related role is web developer. Web designers create the layout and visuals of websites, whereas web developers focus on the technical aspects of making websites work. Here is a breakdown of the skills and tools web designers and web developers use:
What are the major stages of this career?
After 4-5 years you can get promoted to senior web designer. This involves overseeing the entire design of a site from start to finish and managing the work of other web designers.
A relatively lucrative and growing role that some web designers transition into is user experience design (UX design). This involves not only visual design but creating all the elements that contribute to a user's experience when using a website or app.
Read more: UI, UX: Who Does What? A Designer's Guide To The Tech Industry.
Those who are more technically inclined can focus more on the web development side of the role, though for these people it's probably better to start off in web development (the pay is higher, there are more jobs, and higher projected job growth) and then learn design skills as they go.
Pros of web design
Important skillset that can be used for direct work in a wide range of causes
Web design is a skill that's in-demand in many types of organisations, from charities to startups, giving you great flexibility and the opportunity to work on high impact projects.
Organisations that are especially high-impact to work at or volunteer for include:
Freelance and remote work is common
Freelance work is widely available. Remote work is mainly common in tech companies.
This gives you greater flexibility to use your time outside work for other high-impact projects and even relocate to a place where you want to volunteer on a project.
You can work remotely to lower your cost of living and increase your donatable income, or reduce your working hours to free up more time for side projects. You can find remote web designer jobs here.
Potential to become a hybrid designer/developer
A unicorn is someone who can take on and perform the tasks of a UX Designer/Architect, Visual Designer and Developer (typically front-end)." Justin Smith
If you're a bit weaker technically than web developers, but better visually, then consider becoming a hybrid designer and developer. This opens up a lot of positions in small organisations.
Read more The Unicorn: Hybrid Designer + Developer.
Learn a skill that's in demand and likely to continue being in demand
The outlook for web developers (which includes web designers) is very good: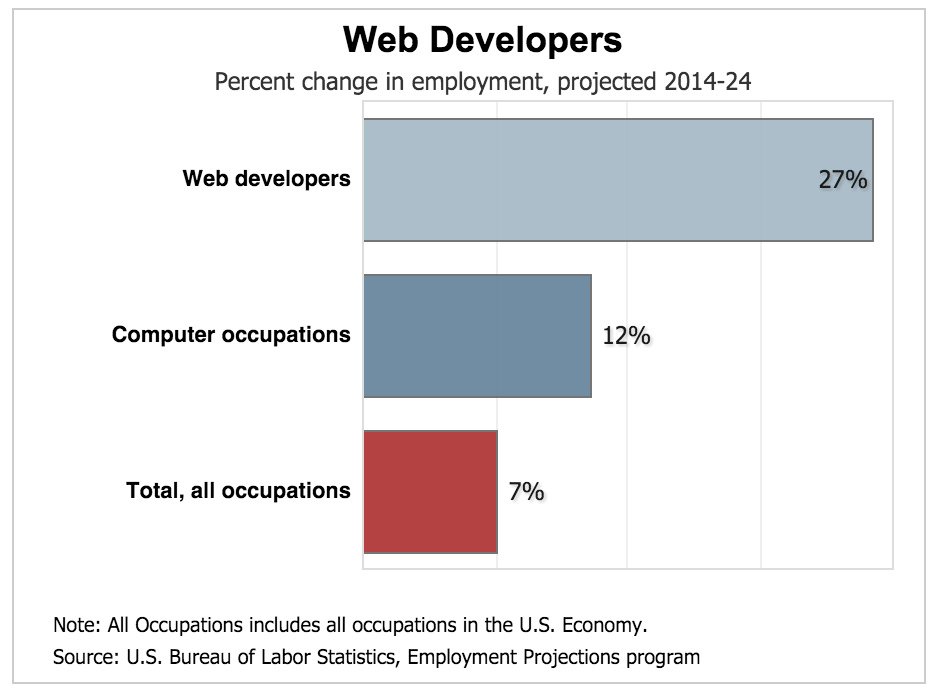 If we look at the outlook for graphic designers, the overall outlook is poor (7% growth 2014-24), but it's much better for graphic designers working in computer systems design (21% growth) and in software publishers (27% growth).2
Fall back option to make a difference through earning to give
Web designer salaries are reasonable – the median in the US is around $55,000 (see more on salaries below). As a backup to direct work, you could move into UX design, where the median is around $80,000, and earn to give.
There isn't official government data on the pay of web designers, but we can get a sense of their pay by looking at the pay of graphic designers who work the tech industry. The pay for graphic designers in general is not that high, but the median annual wages for those working in computer systems design and other information services is $55,000, and for those working in software publishing it's $53,000.3
Salary.com, which is generally less reliable than government data, has the median salary including bonus for web designers as $74,000.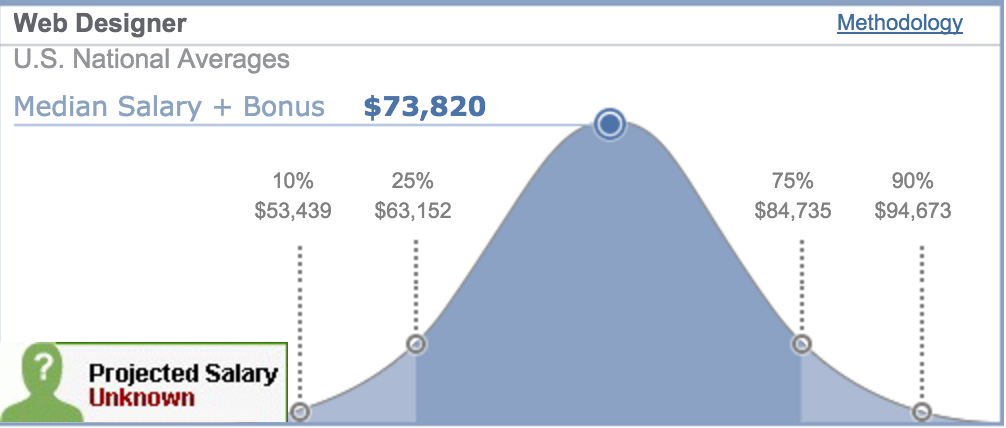 In the UK, according to the graduate careers website Prospects, starting salaries for web designers are £18,000 – £24,000 and with four to six years of experience £24,000 – £40,000.
Downsides of web design
Entry and progression can be difficult because good design is hard to measure
This is a hard career to enter and progress within because web design is a credence good — it's hard for clients to tell whether your design is good. Since the quality of work is hard to measure, to prove yourself you need to build up a portfolio of many impressive clients, which gives you social proof and acts as evidence of your design skills. But getting there takes time, and it can be a bit of a catch 22 situation: you need to have an existing portfolio to be able to get clients, but to build up a portfolio you already need to have had some previous clients.
This also means that it's really important to have good persuasion and negotiation skills, and charisma to be able to get well-paid jobs and get promotions or if you go down the freelance route, to gets lots of money.
Entry requirements
You usually need:
A bachelor's degree in graphic design or a related field.
Familiarity with web technologies like HTML, CSS, JavaScript, and web graphics like JPEGs and GIFs.
Knowledge of software like Photoshop, Illustrator and Dreamweaver.4
Who should consider this option?
You should consider web design if you meet the entry requirements and:
You really care about web design; you've already put in the time to develop good taste in design; you've dabbled in programming.
You are good at persuasion and negotiation.
You have high self-discipline and solid time management skills as many web designers start as freelancers.
You have strong communication skills to justify your design decisions and understand project requirements
Your visual skills are stronger than your quantitative skills.
Web development wins over web design on most dimensions (salary, number of jobs, job growth rate, quality of work is easier to measure), so if that's open to you, then focus on it. However it requires greater technical skills.
How to get a job
1. Learn basic design skills.
The best online resource we found is HackDesign. The next best is SkilledUp's list of best online graphic design courses for beginners.
We don't recommend spending too much time on learning HTML, CSS and JavaScript because the process of taking a design in a program like Photoshop and converting it for display on the web is increasingly becoming commodified. Very capable specialists freelance on sites like Upwork can be hired to do this for $10-$15/hr. So a youngster newly entering the field should likely focus on developing their design skills and delegate the conversion process (developing their project management skills), rather than spending the time required to master a rapidly changing and complex sub-specialty that pays so little.5
See a list of other courses and resources in our wiki.
2. Build a portfolio
See a list of other resources on buildling a portfolio in our wiki
3. Apply widely to jobs and prepare for interviews
Read about the common parts of a designer interview, and how to do well in each part.
Further reading