What does the public think about risks of human extinction?
We care a lot about reducing extinction risks and think doing so is one of the best ways you can have a positive impact with your career. But even before considering career impact, it can be natural to worry about these risks — and as it turns out, many people do!
In April 2023, the US firm YouGov polled 1,000 American adults on how worried they were about nine different potential extinction threats. It found the following percentages of respondents were either "concerned" or "very concerned" about extinction from each threat: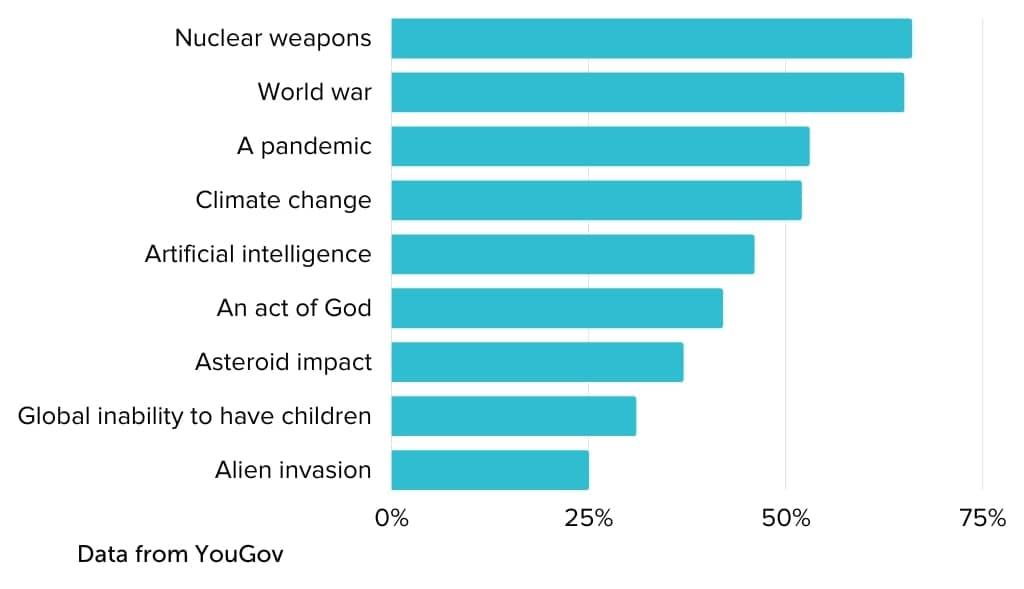 We're particularly interested in this poll now because we have recently updated our page on the world's most pressing problems, which includes several of these extinction risks at the top.
Knowing how the public feels about these kinds of threats can impact how we communicate about them.
For example, if we take the results at face value, 46% of the poll's respondents are concerned about human extinction caused by artificial intelligence. Maybe this surprisingly high figure means we don't need to worry as much as we have over the last 10 years about sounding like 'sci fi' when we talk about existential risks from AI, since it's quickly becoming a common concern!
How does our view of the world's most pressing problems compare?