My experience with imposter syndrome — and how to (partly) overcome it
Seven stories of talented people held back by the fear they weren't good enough
In a nutshell: I have imposter syndrome, and I suspect many other people trying to have a big impact with their career do, too. For a long time, imposter syndrome massively limited the impact of my career by causing me to rule out potentially impactful options and affecting my day-to-day job performance and satisfaction — but through talk therapy and other tools, I've mostly overcome it. If you think you might struggle with imposter syndrome, tackling it may be one of the most important forms of personal development you can do. It was for me.
I've felt like an imposter since my first year of university.
I was accepted to the university that I believed was well out of my league — my 'stretch' school. I'd gotten good grades in high school, but I'd never seen myself as especially smart: I wasn't selected for gifted programmes in elementary school like some of my friends were, and my standardised test scores were in the bottom half of those attending my university.
I was pretty confident I got into the university because of some fluke in the system (my top hypothesis was that I was admitted as part of an affirmative action initiative) — and that belief stayed with me (and was amplified) during the decade that followed.
Throughout that decade, there was evidence that I really was good at my work at different points, but I could always come up with an explanation for why the evidence was unreliable.
For example, as an undergraduate, I was the only first-year student in my biology department to get a research internship at the Mayo Clinic — one of the most prestigious biomedical institutions in the US. But I felt I only got the internship because I'd met the right person at the right time, and tricked them into thinking I was smarter than I was by saying smart-sounding things.
Likewise, during my final year of university, I was given an award for being the top performer in my sociology department. But I believed that was just because the professors 'liked me' and thought I was 'nice.'
My feelings didn't end at university. They came back when I was offered an internship at GiveWell after graduating. But despite the fact that I had completed multiple work tests and had interviewed with the CEO, I told myself I only got that internship because my resume made me look more competent than I was (because of years of tricking other people into giving me internships and awards!).
More recently, I published a series of blog posts on nuclear war on the Effective Altruism Forum while working at Rethink Priorities, and got a lot of positive feedback. But I also got some negative feedback about some mistakes I'd made in my analysis — which, to me, confirmed that anyone reading my work closely would realise the work was riddled with mistakes and flawed reasoning.
And then when Will MacAskill, apparently impressed by my nuclear war research, asked me to do research into civilisational collapse for his upcoming book, I felt like even more of a fraud — like I'd tricked Will into thinking I was a good researcher by publishing low-quality research that 'passed' as good.
Rather than assuaging my insecurities, my successes actually made me feel more ashamed, because they meant that I was fooling more and more people in increasingly high-stakes roles. Now that I was being asked to do things that I thought really mattered, I was going to really be letting people down.
Writing this now, I'm astounded by the mental gymnastics I was performing to maintain the belief that I was fooling everyone. Looking back, I'm proud of the achievements in that list. And even long before I was working on those impactful projects — and even if I'd never worked on things like research for Will MacAskill — there was and would have been plenty of reason to think I had something to contribute.
But somehow, I believed that I was both terrible at my job, and also excellent at the skill of seeming great at it; I believed I was both much less competent than my exceptionally smart colleagues, and also that they weren't smart enough to realise I was a fake. Some truly ridiculous contradictions.
Thankfully, I've come a long way in overcoming my imposter syndrome. But I've met a lot of people struggling with the same things in the process — people who've noticed ways their imposter syndrome has seriously curtailed their impact (and their wellbeing) — and I've come to suspect that imposter syndrome might be especially common, and especially harmful, among people trying to have high-impact careers.
Below, I explore why I think that might be, why it matters, and concrete things my friends, colleagues, and I have found helpful in overcoming imposter syndrome.
How imposter syndrome has capped my impact so far
My imposter syndrome has had really significant effects on my day-to-day work and productivity.
For example, when I first started at Rethink Priorities, I was so worried my manager would realise I wasn't actually any good at research that I worked long hours to compensate for my perceived incompetence. (To be clear, this was driven by my own anxiety, not by anything my manager did or said.) Working such long hours got me close to burnout, plus a case of repetitive strain injury that still flares up four years later.
Additionally, while doing that research at Rethink, I caveated everything in my writeups so heavily that no one reading them would be able to tell what I really thought. (If they couldn't figure out what I really thought, they couldn't realise I didn't know what I was talking about!)
Similarly, while working as a research assistant for WIll MacAskill, I procrastinated showing him my research drafts for months — which made me lose out on valuable feedback from him early on in my research, when it would have been most useful.
And since joining the 80,000 Hours web team as a writer seven months ago, I've avoided writing articles for the website, preferring projects focused on user experience and web analytics instead, out of fear I'd be outed as a bad writer (until now — progress!).
What's more, my imposter syndrome also made it near-impossible for me to think clearly about how to have the highest-impact career possible — to look at my strengths and weaknesses head on in order to work out which impactful roles I might actually be well suited for.
I simultaneously hoped I was competent enough to have a high-impact career, and was terrified I'd fail if I tried. And the only way to avoid the painful reality that I might not be good enough to have an impactful career was to make sure I wasn't being too ambitious.
This meant almost never applying for impactful roles I thought I might not get. And it meant shying away from more responsibility in the roles I did get.
For example, after working as Will MacAskill's research assistant for about six months, Will asked me to be his chief of staff. But I didn't want the job. I felt that only someone more competent than me should be doing a job that important — someone who wasn't faking it like me. I ended up accepting the role in the end, but the feeling that I shouldn't be doing such a high-stakes role stayed with me.
Likewise, when I was given the opportunity to give grants to help reduce the probability of nuclear winter, I turned it down. I didn't want myself or anyone else to realise I wasn't any good at grantmaking.
I think it's possible that these were big mistakes. Rather than pursue an ambitious goal like nuclear grantmaking with some chance of failure, I chose to guarantee failure by not trying in the first place — at least then I could maintain the belief that maybe I'd have succeeded.
How I (partly) overcame imposter syndrome
Despite being promoted to Will MacAskill's chief of staff, I was more confident than ever that I was a fraud. No amount of positive feedback I got could convince me otherwise (nevermind the fact that this meant simultaneously believing that Will MacAskill was both brilliant and dumb enough to be fooled by a 'dummy' like me).
These worries took my anxiety to new heights, and caused my first major depressive episode.
While discussing my fears with a friend, they hypothesised that imposter syndrome — on top of being the root of my depression and anxiety — might also be the single biggest factor limiting my impact.
I was sure that they were wrong: "Sure, that might be the case for people who are really suffering from imposter syndrome, but I'm an actual imposter," I thought. But the idea that something like imposter syndrome might meaningfully cap my ability to have a bigger impact felt important enough that I decided to explore it.
I started seeing a therapist who specialises in anxiety, depression, perfectionism, and imposter syndrome — which are often linked together, and certainly were for me. My therapist recommended we use cognitive behavioural therapy (CBT) to understand and address these issues.
First, we explored how the behaviours I thought were protecting me from being outed as an imposter were actually reinforcing the imposter syndrome. By doing things that would ensure no one else would realise I was a fraud (or have it confirmed for myself), I was also making it harder to get and believe evidence that I wasn't one. For example, by working excessively without telling my colleagues, any praise I got on my work could be chalked up to my long hours rather than my abilities.
Second, we looked at how my low self-esteem biased my thinking in ways that made it really difficult to develop an accurate view of myself. For example, through things like:
Catastrophising: assuming the worst is true, or the worst will happen without evidence (e.g. I didn't get the job I applied for, so I'll probably never get an impactful job).
All-or-nothing thinking: thinking in black-and-white terms when there's lots of grey in between (e.g. if I'm not a brilliant writer, I'm a terrible one).
Unrealistic standards: having an unrealistically high bar for success (e.g. I'm not good at my job unless every project I work on is perfect).
Selective attention: focusing only on negative evidence (e.g. a mix of positive and negative feedback in a performance review translates to "I'm doing a bad job").
Overgeneralising: taking evidence about one thing and applying it to a broader set of things (e.g. I gave a talk and it didn't go well; I'm bad at giving talks).
Discounting positive evidence: finding reasons not to believe positive evidence (e.g. I only got into a top-tier graduate programme because I spent twice as long as other candidates on my research sample).
Scanning: searching for evidence of the thing we fear (e.g. reliving memories of interviews with experts to focus on what went poorly).
Jumping to conclusions: assuming a certain (often extreme) conclusion from only a small amount of information that could mean lots of different things (e.g. interpreting a lack of explicitly positive feedback from a colleague on your work as a sign that they thought it was bad overall).
I found I was doing almost all of these. I was also applying them asymmetrically: there was one set of standards for myself, and a whole separate set — a more charitable and generous one — for everyone else.
And together, my unhelpful behaviours and my biased thinking meant I was locked into a self-reinforcing imposter syndrome cycle: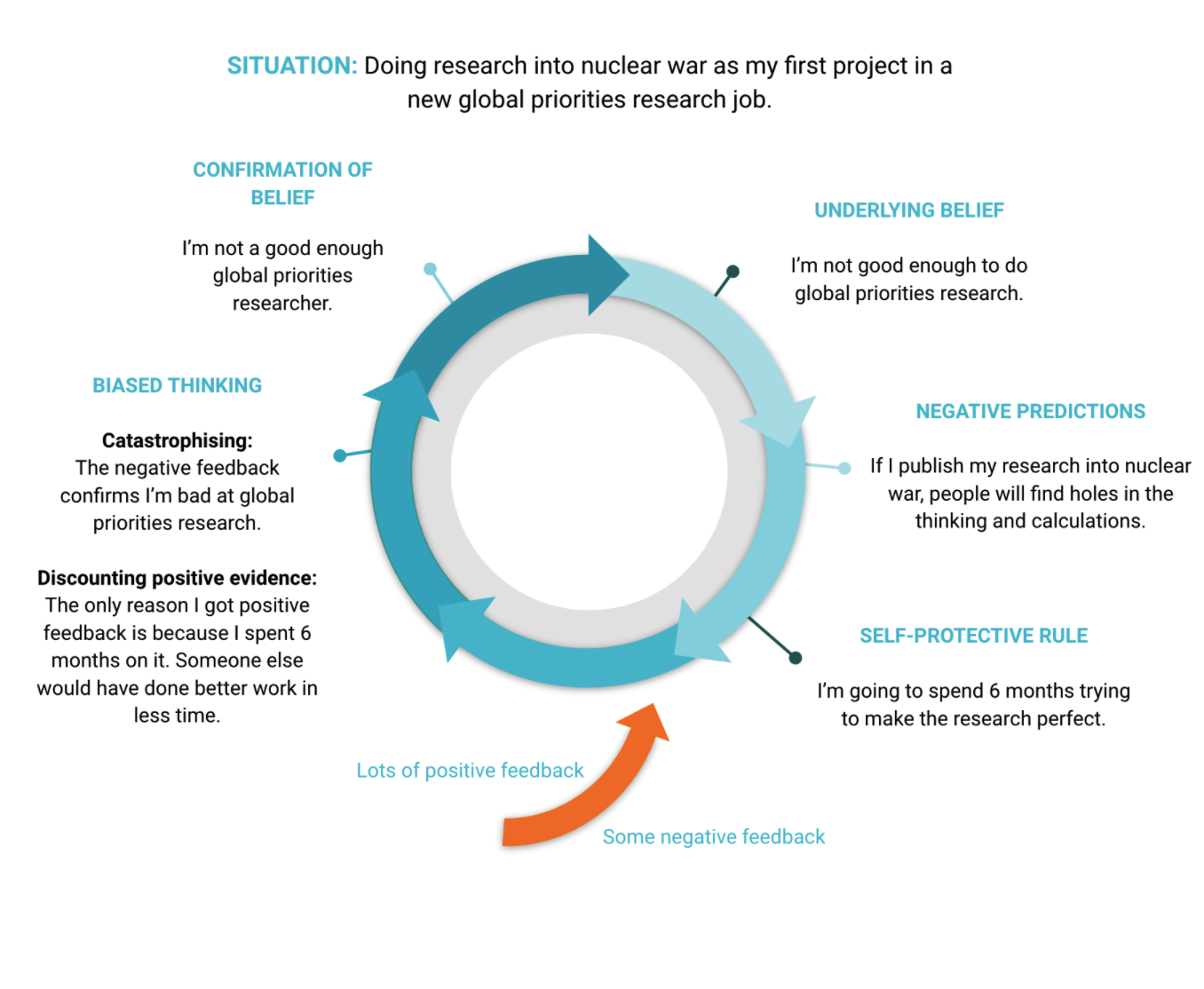 After understanding how my imposter syndrome was a self-perpetuating cycle, my therapist and I made a plan for me to start trying to get real, incontrovertible evidence about my abilities. No more hiding behind long hours and caveats and self-deprecation. To do this, we came up with 'experiments' that would break the imposter syndrome cycle by abandoning one of my self-protective behaviours, or challenging my biased thoughts. For example:
Take out all of the unnecessary caveats in my next writeup.
Share an early outline or draft with my manager.
Take on a project I'm not sure I'll nail.
Ask for explicit negative feedback on my work.
Tell my manager exactly how long it takes me to do my research tasks this week.
Each time I did these experiments, I got clarity on what my actual strengths and weaknesses were.
Sometimes, this was in the form of non-feedback. For example, in response to telling my manager exactly how long I spent on a report, they never said what I feared they would — something like "You spent that long on this crap?"
Sometimes, I got positive feedback. For example, a number of people have told me they liked my 80,000 Hours Podcast episode with Rob Wiblin (even though I was sure it went terribly after recording it).
And sometimes I got negative feedback. For example, (at my request) my manager gave me some pretty substantial negative feedback about my research ability.
This wasn't an easy process. Unsurprisingly, the positive feedback felt wonderful, and the negative feedback felt kind of devastating. But both were necessary to develop more accurate views of my abilities.
It took a lot of work to both 1) update the right amount in response to the feedback (internalising the positive, not catastrophising about the negative), and 2) come to terms with the fact that I was sometimes finding out I wasn't as good at a given type of work as I really wanted to be. (Using the CBT tool called a STOPP really helped with the latter.)
But for better or worse, all of the feedback — feedback I'd been trying desperately to avoid before that point — allowed me to think more critically about how to have a bigger impact, given my actual strengths and weaknesses.
And I made a lot of progress. I learned that I'm a good but not phenomenal researcher (and I worked on accepting that that didn't mean I wasn't a good or worthwhile person). I also learned that I'm pretty great at project management and data analysis.
In this way, addressing my imposter syndrome was fundamentally a truth-seeking exercise.
And just like it's crucially important to be genuinely open, curious, and truth-seeking when forming a judgement on what the world's most pressing problems are, it's crucially important to be open, curious, and truth-seeking when forming a judgement about what you might or might not be capable of.
How common is imposter syndrome?
A meta-analysis of 62 studies found that estimates of the prevalence of imposter syndrome ranged from 9% to 82%, and affects both men and women (though it may be more common in women), as well as people of all ages (though it may decrease with age).1
Some indication that imposter syndrome is common in the effective altruism community is that when 80,000 Hours' Chief of Staff Howie discussed his imposter syndrome publicly on The 80,000 Hours Podcast, the episode quickly become the podcast's most popular episode ever — by a long way.
It wouldn't be surprising to me if imposter syndrome were more common among people trying hard to do the most good they can — for a few reasons:
Ambitious goals. The careers we think are most likely to help as many people as possible tend to require a lot of ambition — often, the more ambitious your career path is, the more likely it is you'll be able to truly move the needle on a pressing problem. But if you're aiming that high, it makes sense that you might have a lot more doubt about your ability to achieve your ambitious goals.
An impressive community. We've helped build a community of people trying to do a lot of good with their careers. And we've focused on reaching especially capable people, with the hope that they'll be able to use their talents to make progress on the world's most pressing problems. But being surrounded by such impressive people can mean frequently comparing yourself to exceptionally gifted people — so it's no surprise that being part of that community can exacerbate imposter syndrome (as well as insecurities of other kinds!).
Personality traits. More speculatively, I suspect people motivated to do as much good as they can with their careers might be more likely to have personality traits that make them more predisposed to imposter syndrome — traits like high intelligence, perfectionism, conscientiousness, ambition, and neuroticism (especially anxiety, guilt, and shame).
Philosophical views. Lots of people aiming to do as much good as possible are inspired by so-called 'demanding' worldviews such as consequentialism (the idea that it's always morally better to do the thing that creates better outcomes). For some people, that can mean self-worth becomes tied to exceptionally high moral standards, which can sometimes (but not always) feed into an imposter syndrome cycle by both raising your standards and making the idea that you might not meet them even more distressing.
Do you have imposter syndrome?
We're obviously not in the business of diagnosing mental health concerns, and we're big proponents of seeking professional support.
That said, to get a sense of whether you have imposter syndrome characteristics, you can use an imposter syndrome screening tool like the Clance Imposter Syndrome Scale. You'll read 20 statements and indicate how often the statement feels true to you (on a scale of 1 to 5), and then calculate your total score.2
A few example statements:
I have often succeeded on a test or task even though I was afraid that I would not do well before I undertook the task.
I avoid evaluations if possible and have a dread of others evaluating me.
When people praise me for something I've accomplished, I'm afraid I won't be able to live up to their expectations of me in the future.
I sometimes think I obtained my present position or gained my present success because I happened to be in the right place at the right time or knew the right people.
I feel bad and discouraged if I'm not 'the best' or at least 'very special' in situations that involve achievement.
Do any of those statements ring true? If so, I'd encourage you to answer the complete questionnaire on your own.
Or does this sound like someone you know? If so, consider sending them this article.
How might imposter syndrome affect the impact of your career?
I know first-hand how terrible imposter syndrome can feel. I spent years feeling ashamed of being inadequate, guilty for tricking people into thinking I was more competent than I was, and terrified of being found out at any moment.
In my view, those painful feelings are reason enough to make addressing your imposter syndrome a top priority. No one deserves to feel that way.
But on top of that, there's a strong case for addressing imposter syndrome just in terms of increasing the positive impact you can have with your career: imposter syndrome can hold you back from doing the things you are absolutely capable of doing to help others.
To work out how to have the biggest impact possible with your career, you need to answer: how are you best placed to help solve the world's most pressing problems? What are your strengths and weaknesses, and how do they affect what roles you'd excel in?
Imposter syndrome is fundamentally about a disconnect between your beliefs about your abilities and your actual abilities, so it often makes it impossible to think realistically and accurately about what your career options are.
This has real implications for how impactful your career is.
Imposter syndrome can lead you to (mistakenly) rule out impactful options
80,000 Hours cofounder Benjamin Todd laid out four key reasons to be more ambitious with your career plans if your primary goal is to have an impact.
In a nutshell: why many people should be more ambitious
If you care about the number of people you help, it can be worth betting on a small probability of helping a huge number (unlike with personal goals, where most things have more sharply diminishing value).
The wide variation in how much good different career paths can do means that low-probability, high-upside scenarios can be the biggest driver of your impact. Though keep in mind that low-probability, low-downside scenarios can also be a big driver of your impact — which is why it's important to limit downsides (more on this below).
Aiming high has more information value, since you give yourself the chance of being positively surprised.
Other actors are more risk-averse, so you'll face less competition.
To limit downsides:
Modify or eliminate options that might have a serious negative impact on the world — cutting off the negative tail — and focus on options dominated by a big upside.
Modify or eliminate options that might have a serious negative impact on you — or prevent you from trying again if you fail.
Make sure you have a backup plan.
Put yourself in a better position to take risks over time by investing in your financial security, skills, and mental and physical health.
Because people with imposter syndrome systematically underestimate their abilities, they're often much less ambitious than they could be. They may avoid applying for competitive roles and internships within a given career path because it's less painful to not apply for a role than to get rejected from one.
Not only is this a loss in terms of their immediate direct impact — in some cases, the person would have succeeded in the career path, or gotten the job or internship — but it can also reinforce their imposter syndrome, by seeming to confirm their negative beliefs about themselves: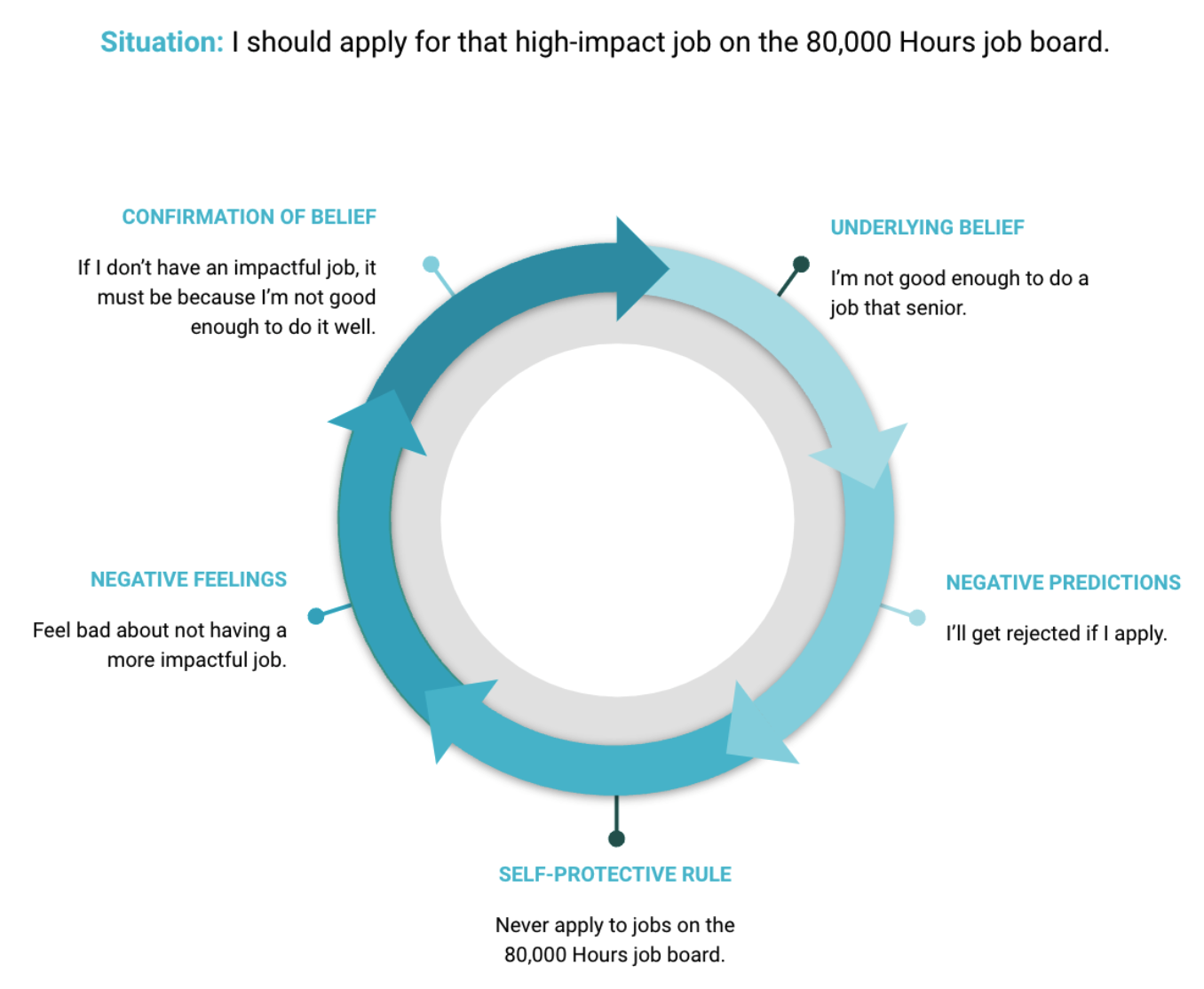 What's more, for some people with imposter syndrome, this can mean ruling out entire career paths that seem like they're 'only for more capable or intelligent people' (I often hear this about founding new projects tackling top problems). And because some career paths are probably orders of magnitude more impactful than others, ruling out impactful paths because of imposter syndrome could cause someone to leave a lot of impact on the table.
Some concrete examples:
Imposter syndrome can reduce your day-to-day impact
According to a meta-analysis of 19 studies (mostly of healthcare professionals), imposter syndrome is associated with worse job performance, higher stress levels, lower self-esteem, lower overall job satisfaction, higher rates of burnout, less career planning, lower motivation to lead, and lower motivation to take on more responsibility. Given the nature of the syndrome, this makes sense!
Many (perhaps most) people feel all of these things from time to time. Getting negative feedback can often be hard — even for people with robustly high self-esteem — and lots of people struggle with procrastination for a host of different reasons.
But for people who have imposter syndrome, these can be so extreme that they have even more significant effects on job performance — and by extension, the amount of impact they're leaving on the table.
What does this look like in practice?
Lower-quality work. People with imposter syndrome often worry that any mistakes they make will out them as imposters. As a result, they are less likely to admit and correct mistakes, and less likely to seek out feedback on their work. And without feedback, their work ends up lower quality.
Difficulty identifying strengths and weaknesses. People with imposter syndrome might also struggle to overcome their actual weaknesses, if they're 1) convinced they're bad at everything, and 2) too anxious to have any of their suspicions about their weaknesses confirmed. Conversely, they're less likely to leverage their strengths, as they don't believe they are genuine strengths.
Lower productivity. Some people with imposter syndrome struggle with procrastination, because they desperately want to avoid working on something they're sure they'll fail at. Others work excessively to compensate for their perceived inadequacies, leading to unsustainable work-life balance and sometimes burnout.
Aversion to responsibility and advancement. Finally, people with imposter syndrome are less likely to work on ambitious projects, take on more responsibility, and accept promotions — all for fear that they (or their colleagues) will realise they're not competent enough for the more challenging work.
How these behaviours can contribute to an imposter syndrome cycle: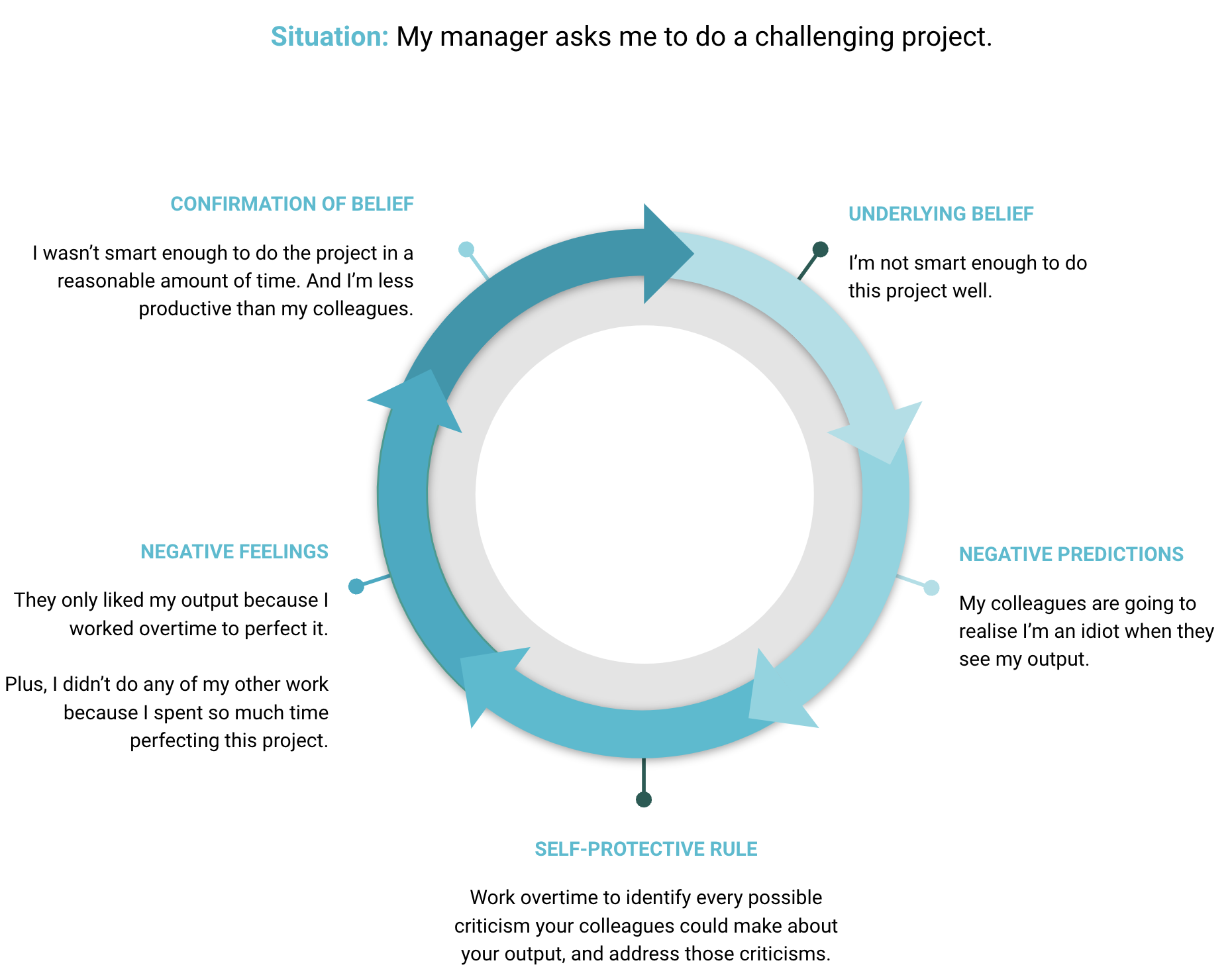 Some concrete examples:
Imposter syndrome has community-wide effects
Back in 2012, we helped start the effective altruism community of people trying to do good for the world. The thing is, the entire community loses out when individuals suffer from imposter syndrome.
Community members with imposter syndrome are less likely to give talks, write publicly, or mentor others, because they're worried others — their audience, their mentees — will realise they're imposters. They're also more likely to defer to others and less likely to critique dominant ideas, because they can't imagine being able to contribute to a field full of (seemingly) smarter and better-informed people.
Together, this means the community as a whole gets fewer talks, less research, a smaller talent pool, fewer mentors, and less refinement of its ideas: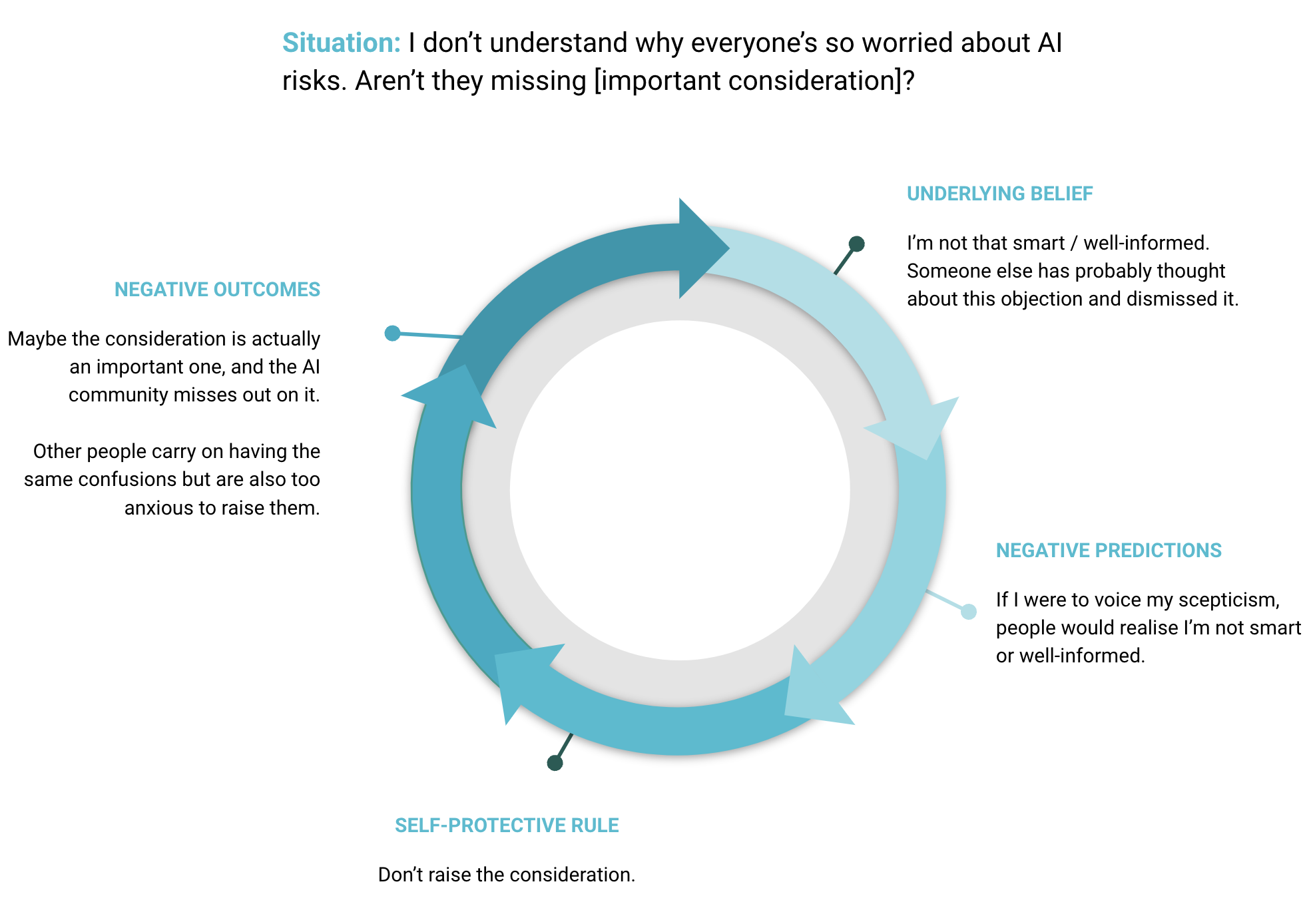 What's more, there's some evidence that imposter syndrome disproportionately affects people of colour, so we are likely to lose out on talent and ideas coming from those already underrepresented communities.
Some concrete examples:
What you can do if you're struggling with imposter syndrome
If you think you're struggling with imposter syndrome, you're certainly not alone (I'd argue you're actually in pretty good company, as you can see above).
And while it's not easy, it's definitely possible to overcome your imposter syndrome.
Lots of people with imposter syndrome have quite deeply ingrained thought patterns that operate pretty strongly to stop them from really internalising true, positive things about themselves. It'll take some work to recognise and tackle those thoughts patterns head on.
As a starting point, here's a collection of advice that my friends, colleagues, and I have found helpful — things you can start doing right now to challenge your imposter syndrome:
To start, I strongly recommend you aim to decouple your self-worth from your productivity and impact — to internalise that you have intrinsic worth no matter how productive you are or how much impact you have. I think this is important for two reasons: 1) it's true, and 2) by working to cultivate a sense of unconditional self-acceptance, you'll be better able to look at your abilities with a curiosity-oriented, truth-seeking mindset — instead of with your entire self-worth riding on a particular outcome.
Talk to your friends, colleagues, and especially your direct manager about your imposter syndrome. Often, your manager can support you in overcoming imposter syndrome by agreeing to: 1) give you honest feedback, 2) challenge you when they think your imposter syndrome is holding you back, and 3) encourage you to approach performance and improvement with a growth mindset. See this post on how managers can support people with imposter syndrome for more ideas.
Consider working through a CBT-based workbook. I personally found Overcoming Perfectionism and Overcoming Low Self-Esteem extremely helpful.
If you can afford it and are open to it, consider seeing a therapist. A therapist can help you notice the self-protective habits that you're using to keep people from finding out you're an imposter — never sharing early drafts, for example — and then help you experiment with the opposite behaviour to see what happens. It can be hard to find a therapist that's a good fit for you, so I'd recommend using the Effective Altruism Mental Health Navigator's list of mental health providers, which has reviews written by members of the community.
If you can afford it and are open to it, also consider seeing a psychiatrist, especially if your imposter syndrome seems exacerbated by depression and anxiety.
You might want to experiment with the CBT tool STOPP, which can help you 1) challenge your biased ways of thinking about your ability, and 2) get some perspective if the process of overcoming imposter syndrome ever causes you pain or stress.
Try being more open to doing ambitious things that scare you — things like applying for jobs that you feel under-qualified for, testing out a new skill you might not be good at, or putting your work out there (be it writing, research, startup ideas). They might go well, they might not; either way, that's valuable information for you.
Reduce the financial and professional downside risks of trying out skills and roles by having a backup plan and investing in your financial security, skills, and mental and physical health.
Once you've sufficiently managed downside risks, consider your worst-case scenario and try to get more emotionally comfortable with it. For example, imagine what it'd be like to be 'discovered' as an imposter and fired — then realise that, in the scheme of things, you'd probably be OK.
Remind yourself that it's someone else's job to figure out whether you're meeting their standards as an employee, so you don't need to constantly feel angst about whether you should quit to save them the trouble of firing you.
Remember that public platforms like the Effective Altruism Forum, LessWrong, Facebook, LinkedIn, and others usually highlight other people's biggest strengths and achievements. This makes it easy to (mistakenly) imagine other communities and individuals as brilliant, productive, and free of weaknesses.
None of these steps are easy. They require a lot of strength and a lot of bravery.
But being convinced that you're an imposter doesn't just come with a huge personal cost — it might also be preventing you from doing as much good as you are actually capable of.
That certainly was the case for me.
I'm by no means cured of my imposter syndrome. I still feel imposter-y fairly often — including, ironically, while writing this article. Over the course of writing, my lingering imposter fears meant I delayed sharing early drafts (and as a result, spent time 'perfecting' sections that were later cut). And when I did share the draft, I was so worried they'd turn around and tell me it was rubbish that I struggled to focus on my other work.
But I'm a lot closer to finding out how to best use my strengths to try to help solve pressing problems than I was two years ago — two-years-ago Luisa wouldn't have written this article at all.
So, if you think you might be suffering from imposter syndrome, taking some of the steps above to overcome it might just be the most important thing you can do right now.
A huge thank you to Laura Pomarius, Tom Davidson, Jenna Peters, Will MacAskill, and Mikaela Saccoccio, for sharing their experiences with imposter syndrome.
Apply for one-on-one career advice
We've found that imposter syndrome is one of the most common reasons people who could benefit from one-on-one career advice don't apply for advice. If you think you might struggle with imposter syndrome, we'd like to give you an extra nudge to apply (even if you don't think you've prepared 'well enough' for the call to be maximally useful).
We can help you compare options, make connections, and possibly even help you find jobs or funding opportunities.
If it doesn't seem like we're the best people for you to talk to, we might be able to put you in touch with someone else, or offer you some resources that we think will help. We offer most people we don't speak to an introduction to someone else or a free book.
Learn more about imposter syndrome
Notes and references
A meta-analysis of 62 studies found that the prevalence of imposter syndrome depends a lot on how you measure imposter syndrome and where you set the cutoff. Because of that, estimates of imposter syndrome prevalence vary widely. In those 62 studies, prevalence rates ranged from 9% to 82%. So it's hard to know just how common it is.↩
A higher score suggests you have more characteristics consistent with imposter syndrome, but note that imposter syndrome might be a useful framing for you even if you only relate to a couple of common experiences.↩