Global priorities research
How would you spend $500,000,000,000?
Every year governments, foundations and individuals spend over $500 billion on efforts to improve the world as a whole. They fund research on cures for cancer, the rebuilding of areas devastated by natural disasters, and thousands of other projects.
$500 billion is a lot of money, but it's not enough to solve all the world's problems. This means that organisations and individuals have to prioritise and pick which global problems they work on. For example, if a foundation wants to improve others' lives as much as possible, should it focus on immigration policy, international development, scientific research or something else? Or if the government of India wants to spur economic development, should it focus on improving education, healthcare, microeconomic reform, or something else?
As we'll see, there are vast differences between the effectiveness of working on different global problems. But of the $500 billion spent each year, only a miniscule fraction (less than 0.01%) is spent on global priorities research: efforts to work out which global problems are the most pressing to work on.
With a track record of already influencing hundreds of millions of dollars, future research into global priorities could lead to billions of dollars being spent many times more effectively. As a result, we believe this is one of the highest impact fields you can work in.
This profile is a summary of our full research report, for which we interviewed eight people involved with global priorities research.
Summary
Governments, foundations and individuals spend large amounts of money on efforts to improve the world. However, there is currently little research to guide them on what priorities they should focus on at the highest level.
Global priorities research applies techniques from economics, maths, and social science to help organisations choose which global problems they should spend their limited resources on, in order to improve the world as much as possible.
Our overall view
Recommended
This is among the most pressing problems to work on.
Scale
We think work on global priorities research has the potential for a very large positive impact. It seems plausible that better prioritisation within international organisations, nonprofits, and governments could help lower extinction risk by between 1% and 10%, raise global economic output by more than 10%, or otherwise considerably improve the expected value of the future.
Neglectedness
This issue is highly neglected. Current spending is between $5 million and $10 million per year.
Solvability
Making progress on global priorities research seems moderately tractable, though we're highly uncertain. We expect that doubling spending on this issue could perhaps be expected to take us around 1% of the way toward the full benefits of better global prioritisation.
Profile depth
Medium-depth
What is global priorities research?
The field of global priorities research is about rigorously investigating what the most important global problems are, how we should compare them to each other, and what kinds of interventions best address them. For example, how do we compare the value of more work on climate change vs. global health vs. preventing future pandemics?
We might distinguish between foundational global priorities research on the one hand, and applied global priorities research on the other. Foundational global priorities research mainly lies at the intersection of economics and moral philosophy, though it may also involve tools from other disciplines. It looks at the highest-level issues concerning which global priorities most further the social good, especially from a long-term perspective. This means it would include topics like investigating the value of reducing existential risk vs. other ways of doing good, how much to prioritize 'broad' interventions that positively affect many different issues at once vs. more 'targeted' interventions that focus on a single issue, and what methodologies we should use to answer these questions. All these questions are relevant to the issue of which problems we should prioritize working on right now if we want to do as much good as we can. See a research agenda produced by the Global Priorities Institute in Oxford, and/or a few examples of research questions we've collected.
Applied global priorities research also seeks to determine what we should prioritize, but is focused instead on taking the lessons of the more foundational research and applying them to the particular situations we happen to be in. For example, if foundational global priorities research told us that reducing existential risk is a top priority, applied global priorities research might ask which specific risks are biggest and easiest to mitigate (e.g., climate change vs. pandemic risk). Or let's say we wanted to pursue broad interventions—which interventions really do affect a broad range of issues in a robustly positive way? How much do they cost? Another valuable kind of applied global priorities research is investigating an underexplored problem area to see how pressing it seems.
There isn't a sharp line between these different kinds of global priorities research, but very roughly speaking more foundational research is more likely to be done in an academic setting like the Global Priorities Institute, and more applied research is more likely to be done at a think tank, grantmaking institution, or effective altruist organization.
We think both kinds of global priorities research are important, and this profile is about both.
Why work on global priorities research?
1. Some problems are far more pressing than others
Intuitively, you might think that if we rated the world's problems on how pressing they are, and put them on a graph, we'd end up with something like this – some problems are more pressing than others, but most are quite pressing: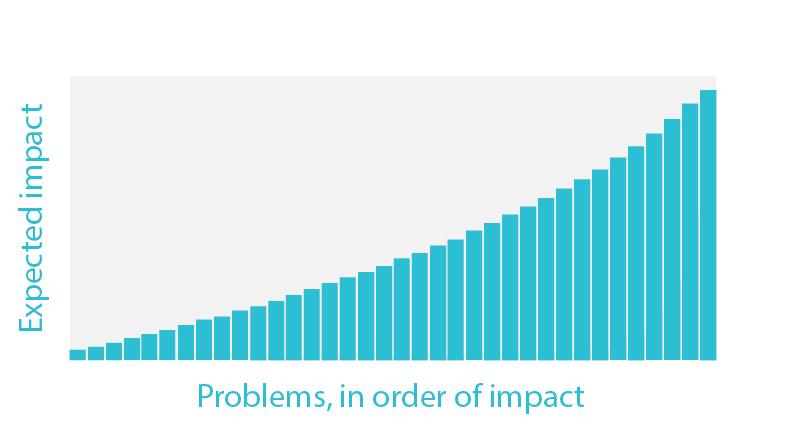 But when we used our framework to evaluate different problems we found that it looks more like this – some problems are far more pressing than others: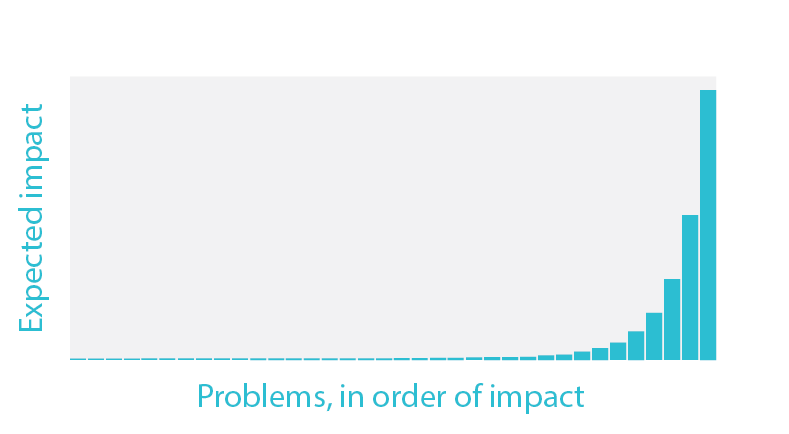 For example, in rich countries like the U.S. or Switzerland the marginal cost to save a life through spending on health care is over $1 million dollars.1 By contrast, the marginal cost to save a life in sub-Saharan Africa through distributing anti-malarial bednets is estimated to be less than $10,000.2 This suggests that if a foundation focused on health in developing rather than in rich countries, it could save on the order of 100 times as many lives.
If such big differences in effectiveness exist, then it is crucial to identify the best areas to focus on. Finding a more effective area could mean we achieve ten or a hundred times as much. Choosing poorly could mean achieving only 1% as much. The aim of global priorities research is to enable decision makers to avoid this mistake.
2. We may discover new, even more pressing global problems
The differences in effectiveness between working on different problems could be bigger if there are problems that humanity hasn't even thought of yet. And it seems likely that we haven't discovered all the serious global problems which exist.
When we look at the history of the human race, we see many examples of major moral problems that most people were completely oblivious to. These include slavery, the deplorable treatment of foreigners, the subjugation of women, the persecution of people who aren't heterosexual, and the gross mistreatment of animals. It is unlikely that we're the first generation to have discovered all the serious moral problems that exist, meaning there are probably major global problems we aren't even aware of today.
Global priorities research could have a huge impact if it identified new pressing problems that we're not aware of, and redirected money and talent towards working on them.
3. Billions of dollars could be redirected to more pressing problems
Organisations whose stated purpose is to pursue the common good spend tens of trillions of dollars each year (out of a global GDP of around $75 trillion), most of which is spent by governments domestically. Foreign aid spending is over $135 billion each year, and private philanthropy in the US totals $350 billion each year.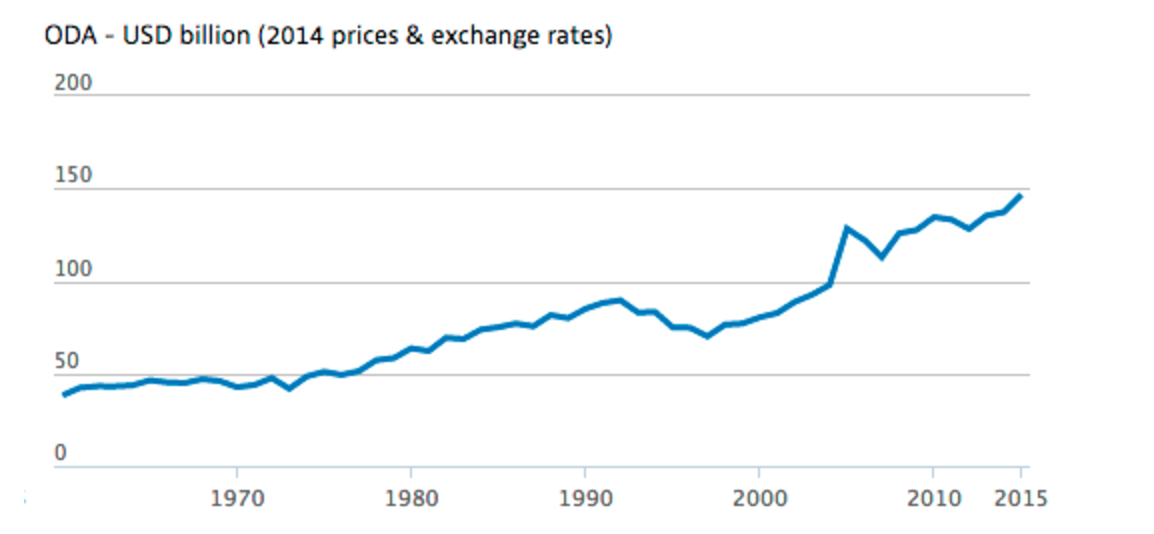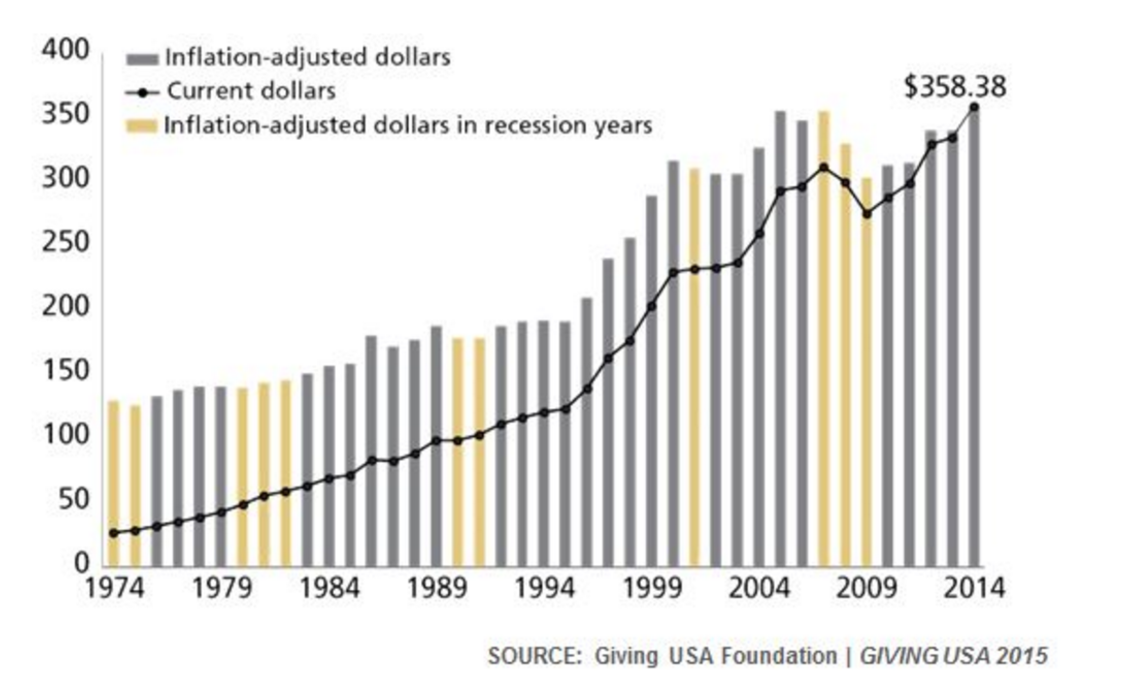 Probably only a small fraction of these tens of trillions of dollars is genuinely intended to improve the world as much as possible, rather than promote the interests of a specific group (e.g. a voting block within a specific country). And only a small fraction of that would be responsive to higher quality research.
Nonetheless, if billions of dollars could be redirected to problems that are larger in scale, more neglected, or easier to solve, this could provide huge gains.
However, since differences in effectiveness can be so large, even if research only influences a comparatively small amount of resources, it can be highly effective. As one example, the charity evaluator GiveWell produces research which, in 2015 alone, led individuals to give $15.5 million to the highly effective charity the Against Malaria Foundation. These donations will likely save around 2,000 lives through the distribution of bed nets that protect people from malaria.3 Only around 4% of US charitable donations go to international causes. This makes it likely that the majority of the $15.5 million GiveWell redirected would have gone to charities working in the US, which, on average, do far less to improve lives than charities working internationally.
4. Highly neglected field
Despite the importance of this research, it's also highly neglected. Organisations focused on directly comparing different global problems (e.g. farm animal welfare vs nuclear war vs improving scientific research) have a collective budget of less than $10 million per year:
Estimated budget in 2015
Open Philanthropy
$2.5m10
Future of Humanity Institute
(fraction on global priorities research)
$0.8m
Copenhagen Consensus Center
$1-2m9
Centre for Effective Altruism
(considering only activities focused on global priorities research)
<$1m
Total
$5-6m
However we should note that there is also research being done which indirectly helps with setting global priorities, for example work done by some academic economists, and groups which run trials and compile data on specific on policy areas.
5. Track record of success in redirecting hundreds of millions of dollars
The field of global priorities research is young, but it has already succeeded in influencing how resources are spent. Here are a few examples:
What are the major arguments against this problem being pressing?
The research may be too difficult
You might think that global priorities research will not be able to reach more accurate results than our current best knowledge, due to the large amounts of uncertainty, ambiguity and judgement calls involved. Perhaps the reason this research is neglected is that it's simply too difficult.
We think this is a reasonable concern. However, the small amount of global priorities research done so far, has already led to significant progress, including:
Moreover, there are many 'low hanging fruit' opportunities for global priorities research still available. For example, researchers could aggregate expert opinions on the severity of different global problems, and gather existing empirical data on the relative scale, neglectedness and solvability of different global problems.
The research may be ignored
You might think that politicians and donors won't be motivated to act on the results of global priorities research. Maybe they'll care more about securing re-election or will instead respond to emotional appeals and gut judgements.
This is a reasonable concern, but we think that if good evidence is presented, at least some will act on the results, as demonstrated by the examples mentioned above.
What is most needed to solve this problem?
Most needed are researchers, and in particular:
Researchers trained in economics, mathematics, or philosophy to develop the methodology for setting global priorities.
Researchers trained in social and natural sciences with the ability to collect data and analyse specific global problems.
Additional researchers can not only enable more progress on these questions, but they also demonstrate that this area is of academic interest, which can bring in more researchers in the future.
Also needed are academic project managers and operations staff to help scale up existing institutes and found new ones.
Finally, it's less of a bottleneck, but funding is also needed. Funding could be used to scale up and found new research centres. It would also be useful to fund scholarships for individuals, and it would be ideal for one or two funders to specialise in evaluating research proposals in this area.
What can you concretely do to help?
Want to work on global priorities research? We want to help.
We've helped a number of people formulate their plans on how to work on global priorities research. If you want to work on global priorities research, particularly if you could get into or are in a relevant grad program:
How to enter
If you want to work in this area as a researcher, you'll need training in the relevant disciplines.
If you are an undergraduate, you can major in, or take classes in mathematics, economics, statistics, or analytic philosophy. If you are out of university, you can take online classes in these subjects, for example this introduction to microeconomics.
In general, the best graduate subject is an Economics PhD. The next most useful subject is philosophy, followed by decision-making psychology, scientific subjects relevant to emerging technologies, and topics like public policy, political science and international relations. People have also entered this field from maths, computer science and physics.
You should also read the existing work of organisations working on global priorities research to get up to speed, for example Open Philanthropy's cause reports.
What are some top career options within this area?
Research paths
The only major academic centre currently focused on this research is the Global Priorities Institute at Oxford, so if you want to pursue this path as an academic that's the ideal place to work. That said, we expect that other centres will be established over the coming years, and you could also pursue this research in other academic positions.
One downside of academia, however, is that you need to work on topics that are publishable, and these are often not those that are most relevant to real decisions. This means it's also important to have researchers working elsewhere on more practical questions.
We think the leading applied centre of this research is Open Philanthropy, and the advantage of working there is that your findings will directly feed into how billions of dollars are spent (disclaimer: we have received grants from them). However, you can also pursue this research at other effective altruism organisations. 80,000 Hours, for instance, does a form of applied global priorities research focused on career strategy.
There have also been people who have pursued global priorities research independently, such as Carl Shulman. These researchers often starting with blogging, and then taking freelance work from donors and the organisations.
Non-research paths
Also see roles in and supporting global priorities reserach, and some ways to help in addition to working on GPR as a career.
Example: Owen switched from maths to global priorities research
Owen was doing research in pure maths, which he thought would have little impact because it's a well-established field which already attracts many of the world's smartest people. Through discussions with the 80,000 Hours community he became convinced to use his research skills to work directly on the most pressing questions. So he transferred into doing global priorities research at the Centre for Effective Altruism and as a research fellow at the Future of Humanity Institute. His research focuses on how to prioritise between working on problems in cases of large uncertainty. He has already advised high levels of the UK government, including the Science and Technology Committee of the House of Commons on the long-term impacts of advanced artificial intelligence.
"80,000 Hours is unique in seriously thinking through the effects of your career on the world."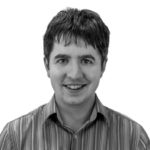 Which organisations could you work at?
We know of only a small number of groups doing research that tries to compare global problems at the highest level (e.g. climate change vs global health). Our top recommendations here include:
Some other relevant organisations include:
A wider range of groups run trials or collect and compile data in specific policy areas. We don't regard this as equally neglected, but it is a very complementary form of research:
Campbell Collaboration, which publishes meta-analyses that draw on large numbers of studies to determine the effectiveness of different types of social interventions.
Poverty Action Lab, an academic network that specifically studies the effectiveness of interventions designed to alleviate poverty.
Many other social scientists or medical researchers who run trials on ways of improving wellbeing.
Find opportunities on our job board
Where to donate to help global priorities research?
You can donate to most of the organisations listed above, where currently the Global Priorities Institute seems like the best option (you can donate at the bottom of this page), followed by the Future of Humanity Institute (since it's already well funded). Open Philanthropy isn't funding constrained.
(To make a tax deductible donation to the Global Priorities Institute from the US, go here, select "Humanities division", and write
"Global Priorities Institute" in the textbox.)
Learn more
Top links to learn more about global priorities research:
Some of our podcasts with global priorities researchers
Other articles and podcasts related to global priorities research:
Want to work on global priorities research? We want to help.
We've helped a number of people formulate their their plans on how to work on global priorities research. If you want to work on global priorities research, particularly if you could get into or are in a relevant grad program:
Or join our newsletter and get notified when we release new problem profiles.