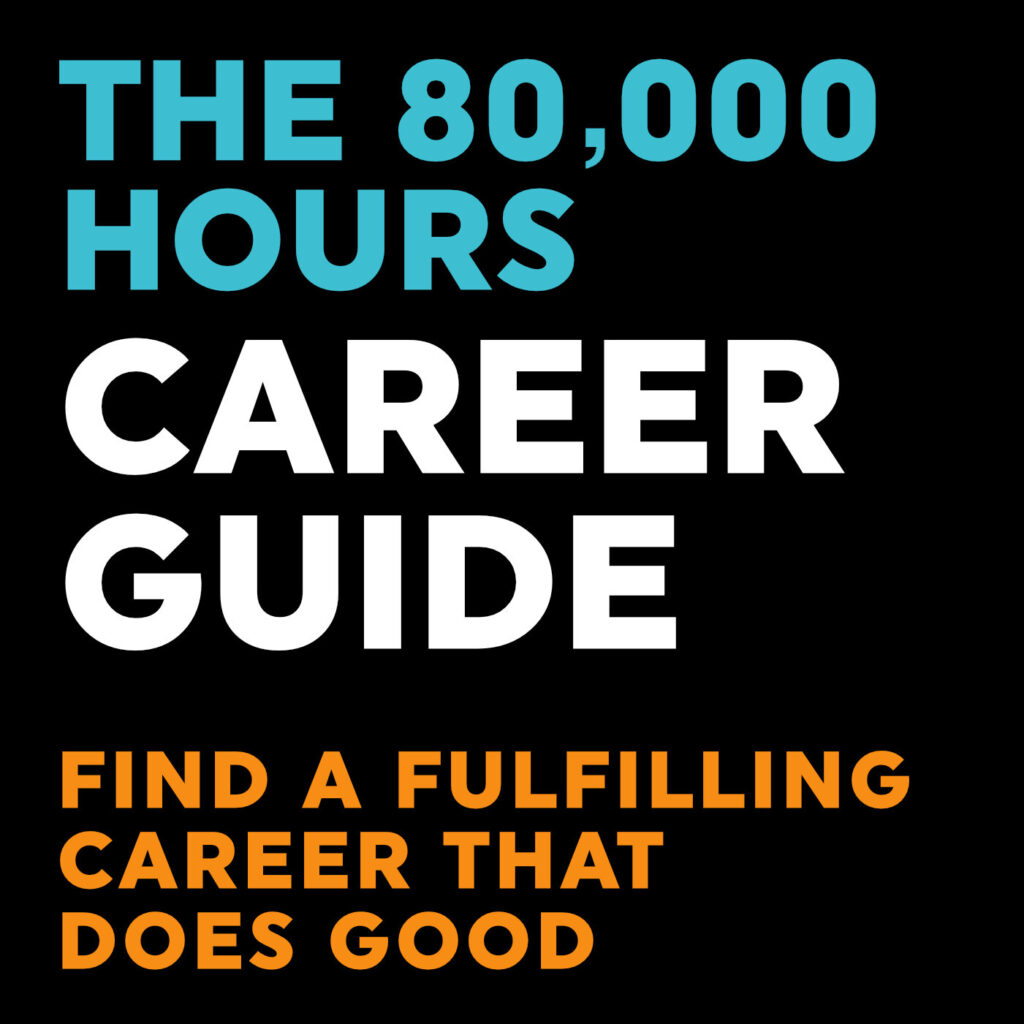 Career Guide (audio version)
Listen to the entirety of our career guide as an audiobook or on your podcast feed.
Find it by searching for "80,000 Hours Career Guide" wherever you get podcasts, or click one of the buttons below:
Why listen to this guide?
You have 80,000 hours in your career. That's a long time. Spend just a few of those hours on this guide to help you work out how to use the rest. We believe you might be able to find a career that is both more satisfying and has a greater positive impact.
Our career guide covers everything you need to know about how to find a fulfilling career that does good, including:
Why you shouldn't "follow your passion."
How you might be able to do more good as a bureaucrat than a charity worker.
Practical tips and exercises — by the end, you'll have a draft of your new career plan.
This free guide is based on over 10 years of research alongside academics at Oxford.
If you enjoy listening to our guide, you might enjoy our podcast. It features over 150 in-depth conversations with experts about how to best tackle the world's most pressing problems.
Listen now
Listen to every chapter of the book, right here:
Introduction: Why read this guide?
Part 1: What makes for a dream job?
Part 2: Can one person make a difference? What the evidence says.
Part 3: Three ways anyone can make a difference, no matter their job
Part 4: Want to do good? Here's how to choose an area to focus on.
Part 5: The world's biggest problems and why they're not what first comes to mind
Part 6: Which jobs help people the most?
Part 7: Which jobs put you in the best long-term position?
Part 8: How to find the right career for you
Part 9: How to make your career plan
Part 10: All the best advice we could find on how to get a job
Part 11: One of the most powerful ways to improve your career — join a community.
The end: A cheery final note — imagining your deathbed
Appendix A: The meaning of making a difference
Appendix B: All the evidence-based advice we found on how to be more successful in any job
Appendix C: Four biases to avoid in career decisions
Appendix D: How to make tough career decisions
Appendix E: Is it ever OK to take a harmful job in order to do more good? An in-depth analysis
Appendix F: College advice
Appendix G: Additional resources
Appendix H: Career review summaries
Appendix I: Problem profile summaries
Prefer a paperback?
Sign up to our newsletter, and we'll mail you the entire career guide as a paperback book.
You'll be joining over 350,000 people who receive weekly updates on our research and job opportunities. You can unsubscribe in one click.
A ridiculously in-depth guide about how to find that perfect career for you.

Ali Abdaal, Internationally acclaimed YouTuber, ex-doctor, and productivity entrepreneur
This incredible group is helping people have a greater social impact with their careers.

Sue Desmond-Hellmann, Former CEO of the Bill and Melinda Gates Foundation
This career guide is among the most thoughtful and grounded I've seen.

Cal Newport, New York Times bestselling author and professor of computer science at Georgetown University
How to listen
To listen on your phone and choose the audio speed you prefer, subscribe by searching for "80,000 Hours Career Guide" wherever you get podcasts, or click one of the buttons below: